---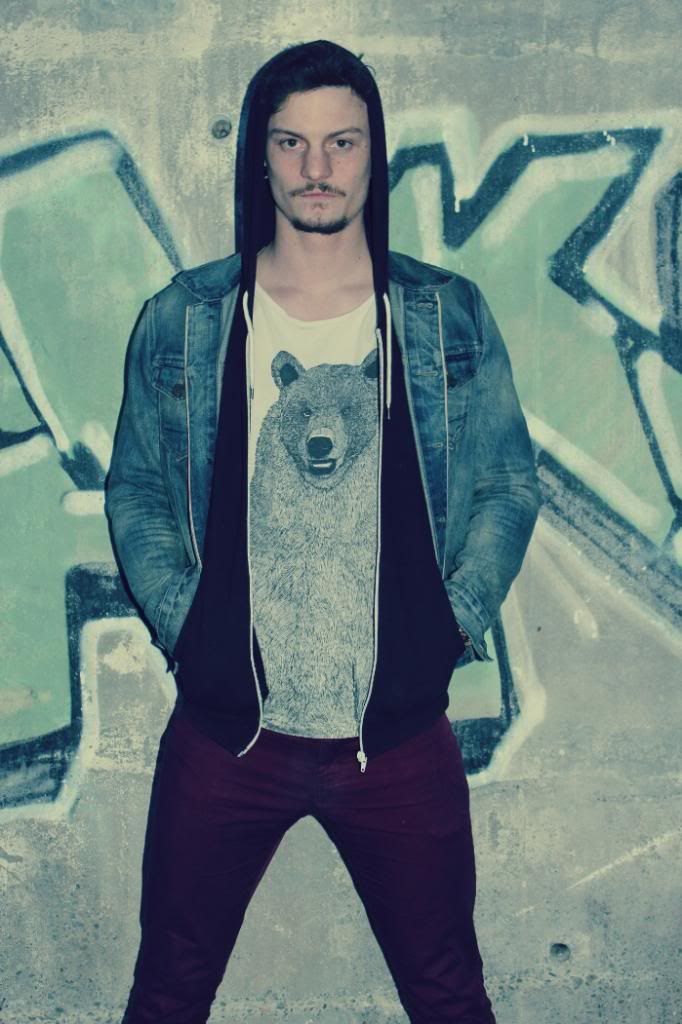 Denim Jacket - All Saints
Black Hoody Jacket - Topman
Bear Tee - Supremebeing
Deep Red Jeans -Ressurection
Black Converse - Schuh
I have decided to feature my boyfriend Jackson on my blog. This was an easy decision, as I tend to like men's fashion more over my own and I have always wanted to incorporate that passion for male style within Velvet Writer somehow. Jack is the only person I would consider to showcase my mens styling efforts on, one being because I trust him enough to be part of this special online world I have created and two because I know he will do a great job as he looks so bloody great in everything he wears. I have chosen to dedicate three blog posts to current mens clothing, where Jack models and we collectively use some of our favourite brands and designers at the moment.
I have to admit that this really was a joint effort and we had such a great time shooting these outfits back home in North Wales. I wanted the locations to be really grungy and different and also have some great colour contrasts to show off the clothes to the best of their ability. Jack was a natural and it became so easy to photograph him. Normally I have my mum help me out and she takes all the pictures of me, we act as a great team and have a good routine but this time, it was really great to be in the driving seat. Constructing all my own shots and image angles and in the end I was over the moon with how overall the whole thing turned out. This isn't going to be a regular thing, but now and then to mix things up, I will dedicate 3/4 blog posts to mens fashion and what I think guys should be looking out for this season.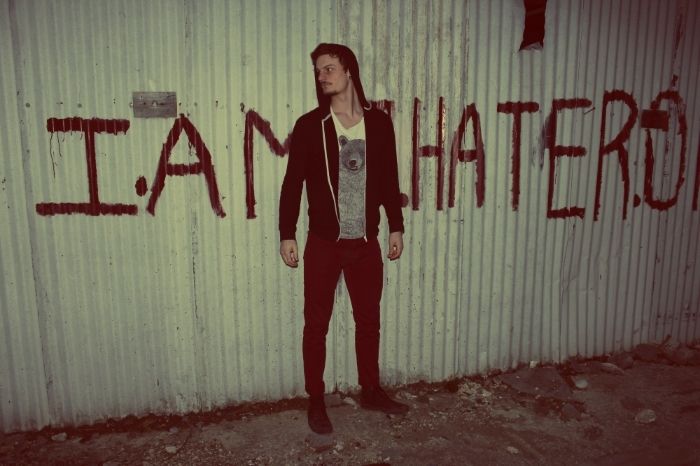 Jack has on his favourite T-shirt from the collection Supremebeing.
Which also do womenswear too over at
www.supremebeing.com
. It's an illustration drawing of a bear in grey and white, also known as '
Mont Bar T-Shirt White
' they are really affordable at £25.00 and of great quality. These t-shirts in particular are perfect for Spring/Summer as they are really lightweight. They have various different animal designs such as wolves and squirrels and their designs are really unique. Cultivating an outfit surrounding the concept of this tee became really easy, with some skinny legged deep blood red jeans from Ressurection in Liverpool, simple all black converse, and a combo Jack and I love.. the coloured zipper hoody underneath a neat denim jacket. Perfect layer combo for a guy this time of year. Double denim and a warm look all round. Jack styles both the hood down and up.
This look is really so simple for guys to achieve. Please stay in touch for more men's fashion features on my blog.
Peace
VW☮