---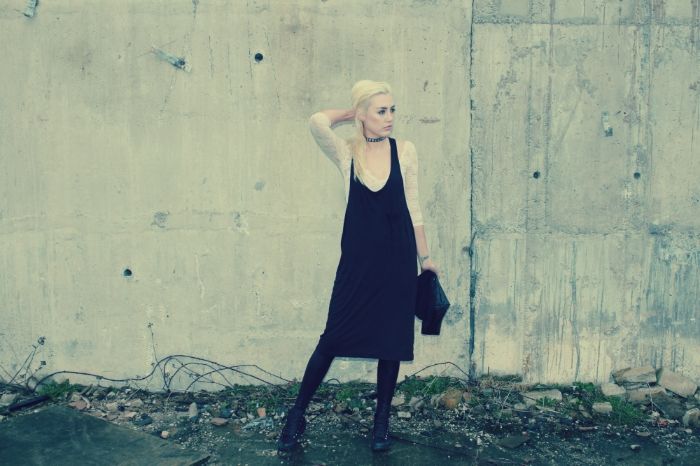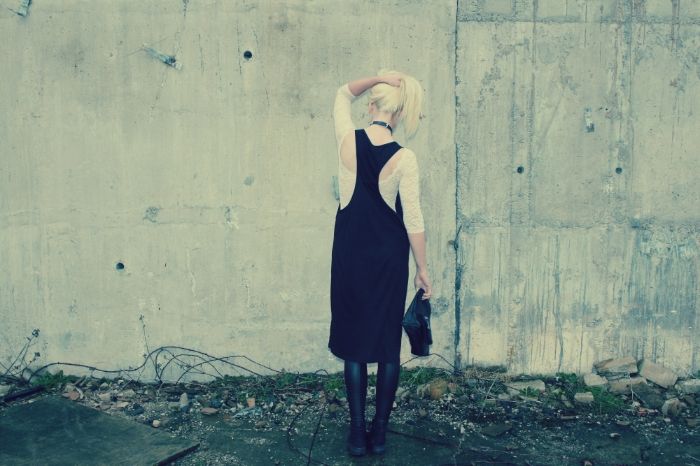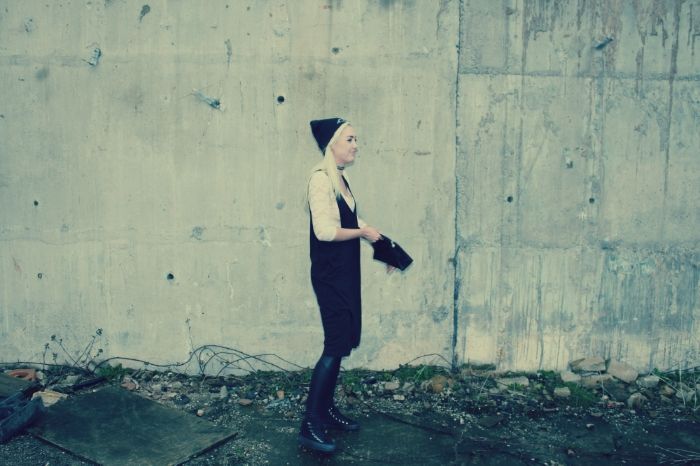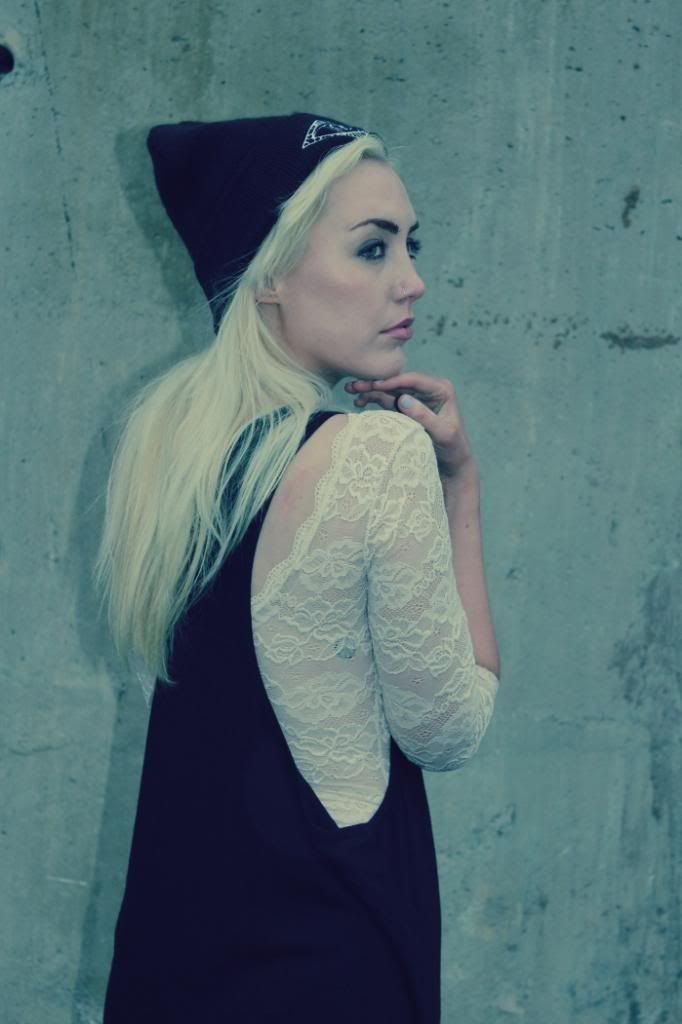 Black Dress - Topshop,
Leather Half Leggings - Miss Selfridge,
Lace Bodice Leotard - Topshop,
Black Pumps - Sixty Seven,
Skull Bag - Primark (make up bag),
Black Beanie - Vibes,
Studded Choker - Claires Accessories
Picking up the pace again with a fashion advancement. I love this look so much, the colours, fabric and textures match perfectly with my new hair colour and new complexion I have adopted. I love black at the moment, I'm not sure if that's trends fault or whether that suits my mood at this stage in life. I feel it is also highly appropriate for the gloomy weather the UK is giving us as we approach what we call like to call Summer, even though we are always lucky to have any sunshine in our lives for longer than a week.
A long black dress or vest garment, should be a wardrobe essential, as it can be used for so many different things, once you master the art of layering, you are pretty much there in terms of great style. I love this pale creme lace and black combo. It is Gothic, yet sophisticated and sexy. I have a lace leotard on, which some panelled leather look leggings and a large vest dress over the top. I am wearing my new faithful black pumps. my new large black skull clutch from Primark, my Vibes beanie which seems permantely attached to my scalp and a sexy studded choker necklace.
We can begin an accessory break down... the skull clutch is perfect. If anyone is looking for a larger sized going out bag, get yourself to Primark and check out this amazing find for only £4.00. It is in fact a make up bag, but I will only be using this as a night bag, It really is too nice to waste on filling it with make up and staining the inside but it really is that cheap, you can buy two and then you can do what you please. I have on my Vibes beanie.. still eagerly anticipating the new Spring/Summer range from Tom the Director. If you check out their instagram 'iamvibes' you will see special exclusives of their new designs and I am very excited say the least. It will be the first thing on my wish list as my birthday falls in the wonderful Summer time.
Last but not least, my new studded choker from Claires Accessories. I have searched high and low for a piece just like this one, other than having to search eBay or some punk shops, I have finally discovered a local shop which everyone has access to. This perfect little jewellery piece cost my just £4.99. It ties like a belt at the back and I will be honest, it takes some getting used to, as it often feels like you are being strangled, but stick at it.. wear it for a few hours and you will become accustomed to the feeling.
Really hope you enjoyed this post.
VW☮